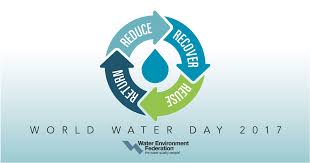 Nigeria joins the rest of the world in celebrating the 2017 World water day with a walk exercise to be led by the Minister of water Resources ,Engr. Suleiman H. Adamu from Eagle Square to NTA Headquarters, Area 11 Abuja .World Water day is an annual global event usually celebrated on 22nd March Every Year to create awareness on water resources management and also to evaluate the activities and partners in the sectors.
The theme for this year's celebration is, ''Water and Wastewater and is expected to highlight the symbiosis between water and wastewater in the quest for sustainable development , and also create opportunity to consolidate and build upon the previous World water Days.
It would also help to get latest update on how waste water is perceived as a valuable resource in the development of the economy.
The Federal Ministry of Water Resources, in conformity with global practices, has also lined up other activities to mark the day. The activities include press briefing at NTA Headquarters after the walk exercise and symposium /Exhibition on Wednesday at the NAF Conference Centre, Ahmadu Bello Way, Kado, Abuja.